ALCOHOL AND MORTALITY BY TRAUMA IN EUROPEAN COUNTRIES
Daniel Ion

1The University of Medicine and Pharmacy Carol Davila, Bucharest, Romania & 2Emergency University Hospital of Bucharest, Romania

Georgiana Radu

1The University of Medicine and Pharmacy Carol Davila, Bucharest, Romania & 2Emergency University Hospital of Bucharest, Romania

Marina Leontescu

1The University of Medicine and Pharmacy Carol Davila, Bucharest, Romania & 2Emergency University Hospital of Bucharest, Romania

Dan Nicolae Păduraru

1The University of Medicine and Pharmacy Carol Davila, Bucharest, Romania & 2Emergency University Hospital of Bucharest, Romania

Alexandra Bolocan

1The University of Medicine and Pharmacy Carol Davila, Bucharest, Romania & 2Emergency University Hospital of Bucharest, Romania

Octavian Andronic

1The University of Medicine and Pharmacy Carol Davila, Bucharest, Romania & 2Emergency University Hospital of Bucharest, Romania
Keywords:
alchol, trauma, WHO databse, trauma mortality
Abstract
Alcohol consumption alters one's consciousness and may lead to accidents and traumatic events with deadly consequences. We aimed to analyze the most recent information available in WHO databases about overall mortality rates and alcohol consumption in European countries. The parameters taken into account were the total number of deaths by trauma, alcohol consumption per capita, prevalence of heavy drinking episodes and national legal blood alcohol concentration while drinking The mortality rate by trauma is influenced by many factors and alcohol intoxication could be one of them. Our analysis shows a moderate correlation between overall alchool consumption and death by trauma in Europe in 2015. There are studies who show a positive effect of alcohol consmption on the overall chance of survival after trauma. Chronic consumption is associated with an increase in mortality. Nonetheless, further research is needed and strongly encouraged.
References
[1] "WHO | WHO Mortality Database." [Online]. Available: https://www.who.int/healthinfo/mortality_data/en/[Accessed: 16-Dec-2019].
[2] O. Savola, O. Niemelä, and M. Hillbom, "BLOOD ALCOHOL IS THE BEST INDICATOR OF HAZARDOUS ALCOHOL DRINKING IN YOUNG ADULTS AND WORKING-AGE PATIENTS WITH TRAUMA," vol. 39, no. 4, pp. 340–345, 2004.
[3] M. Fleming, B. Bhamb, M. Schurr, M. Mundt, and A. Williams, "Alcohol biomarkers in patients admitted for trauma," Alcohol Clin Exp Res., vol. 33, no. 10, pp. 1777–1781, 2009.
[4] A. Exposure, "HHS Public Access," vol. 79, no. 4, pp. 643–648, 2016.
[5] G. J. Jurkovich et al., "The Effect of Acute Alcohol Intoxication and Chronic Alcohol Abuse on Outcome From Trauma," JAMA, vol. 270, no. 1, pp. 51–56, Jul. 1993.
[6] P. Zhang, G. J. Bagby, K. I. Happel, C. E. Raasch, and S. Nelson, "Alcohol Abuse , Immunosuppression , and Pulmonary Infection Alcohol Abuse , Immunosuppression , and Pulmonary Infection," no. February, 2008.
[7] R. D. Blondell, S. W. Looney, C. L. Krieg, and D. A. Spain, "A comparison of alcohol-positive and alcohol-negative trauma patients.," J. Stud. Alcohol, vol. 63, no. 3, pp. 380–383, May 2002.
[8] A. Yaghoubian, A. Kaji, B. Putnam, N. De Virgilio, and C. De Virgilio, "Elevated Blood Alcohol Level May Be Protective of Trauma Patient Mortality," Am. Surg., vol. 75, no. 10, pp. 950-953(4).
[9] F. P. Rivara, T. D. Koepsell, G. J. Jurkovich, J. G. Gurney, and R. Soderberg, "The Effects of Alcohol Abuse on Readmission for Trauma," JAMA, vol. 270, no. 16, pp. 1962–1964, Oct. 1993.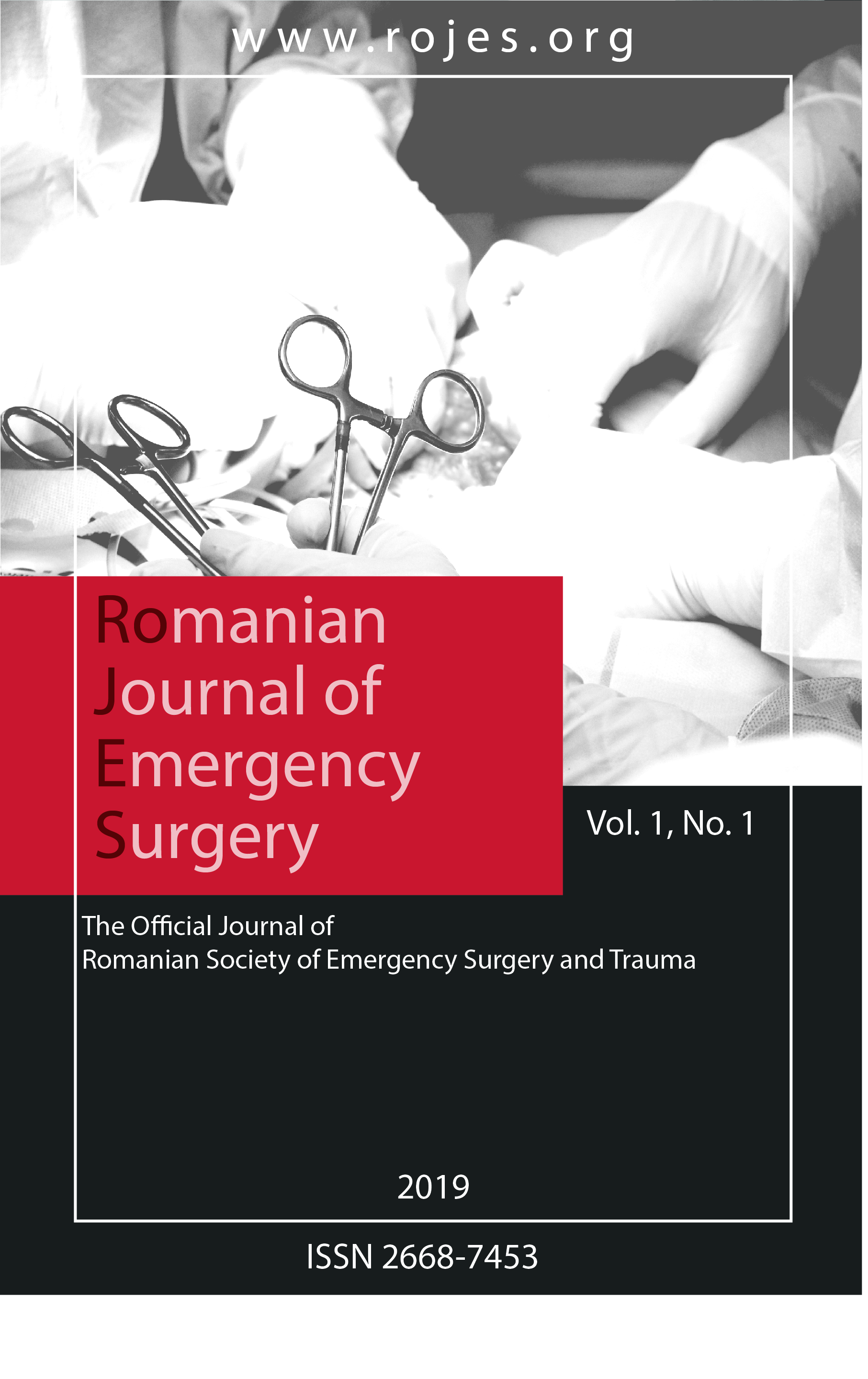 Copyright (c) 2019 Romanian Journal of Emergency Surgery
This work is licensed under a Creative Commons Attribution-NonCommercial-ShareAlike 4.0 International License.