URETEROSCOPY – AS EMERGENCY TREATMENT PERFORMED FOR URETERAL STONES IN SOLITARY KIDNEY
Razvan Cosmin Petca

"Carol Davila" University of Medicine and Pharmacy, Bucharest, Romania

Razvan Ionut Popescu

"Prof. Dr .Th. Burghele" Clinical Hospital, Bucharest, Romania

Florica Sandru

"Carol Davila" University of Medicine and Pharmacy, Bucharest, Romania

Aida Petca

"Carol Davila" University of Medicine and Pharmacy, Bucharest, Romania

Mihai Cristian Dumitrascu

"Carol Davila" University of Medicine and Pharmacy, Bucharest, Romania

Daniel Badescu

"Carol Davila" University of Medicine and Pharmacy, Bucharest, Romania
Keywords:
solitary kidney, ureteroscopy, ureteral stone, acute renal failure, emergency
Abstract
Acute renal failure caused by ureteral stones represents one of the most important urologic emergencies. Patients with solitary kidney need periodic evaluation and increased attentions. The aim of this study is to evaluate the effectiveness of first choice ureteroscopy as definitive treatment for ureteral calculi in patients with solitary kidney. A series of 43 patients with solitary kidney for specific reasons who underwent primarily ureteroscopy were analyzed from 1 January 2018 to 31 October 2019 at "Prof. Dr. Th. Burghele" Clinical Hospital in Bucharest. All patients were imagistic evaluated with abdominal ultrasound, KUB and intravenous urography when possible. Blood tests and urine tests were analyzed for each case. There were excluded patients with fever or altered clinical status. We enrolled 25 men and 18 females with a mean age of 45.67 years old. The major symptoms at presentation were flank pain and oligo-anuria. Based on the imagistics we estimated a mean stone size about 6.74 mm. Frequently stones were located at pelvic level in 79.06% flowed by lumbar 16.27% and ureteropelvic junction 4.65% The stone free rate was 97.67% without major complications. All cases were standard ureteral stented for 3 weeks and were extracted after reevaluation. More and more studies consider that ureteroscopy as first line management can be a valid option instead of placing a nephrostomy tube or double J stent.
References
1. J. M. Hollingsworth, M. A. Rogers, S. R. Kaufman, T. J. Bradford, S. Saint, J. T. Wei and B. K. Hollenbeck, "Medical therapy to facilitate urinary stone passage: a meta-analysis," Lancet, vol. 368, pp. 1171-1179,Sep. 2006.
2. M. Liu and S. O. Henderson, "Myth: nephrolithiasis and medical expulsive therapy," CJEM, vol. 9, pp. 463-465,Nov. 2007.
3. R. J. Anderson and R. W. Schrier, "Clinical spectrum of oliguric and non-oliguric acute renal failure," in Acute Renal Failure, B. M. Brenner and J. H. Stein, Ed, New York: Churchill Livingstone, 1980, pp. 1–16.
4. L. Osorio, E. Lima, R. Autorino and F. Marcelo, "Emergency management of ureteral stones: Recent advances," Indian. J. Urol., vol. 24, pp. 461-466, 2008.
5. S. Yang, H. Qian, C. Song, Y. Xia, F. Cheng and C. Zhang, "Emergency ureteroscopic treatment for upper urinary tract calculi obstruction associated with acute renal failure: feasible or not?," J. Endourol., vol. 24, pp. 1721-1724,Nov. 2010.
6. P. Honeck, A. Häcker, P. Alken, M. S. Michel and T Knoll, "Shock wave lithotripsy versus ureteroscopy for distal ureteral calculi: a prospective study," Urol. Res., vol. 34, pp. 190-192,Jun. 2006.
7. H. Y. Lewis and J. M. Pierce, "Return of function after relief of complete ureteral obstruction of 69 days' duration," J. Urol., vol. 88, pp. 377-379,Sep. 1962.
8. S. R. Shapiro and A. H. Bennett, "Recovery of renal function after prolonged unilateral ureteral obstruction," J. Urol., vol. 115, pp. 136-140,Feb. 1976.
9. J. M. Hsu, M. Chen, W. C. Lin, H. K. Chang and S. Yang, "Ureteroscopic management of sepsis associated with ureteral stone impaction: is it still contraindicated?," Urol. Int., vol. 74, pp. 319-322, 2005.
10. S. C. Picozzi, C. Marenghi, S. Casellato, C. Ricci, M. Gaeta and L. Carmignani, "Management of ureteral calculi and medical expulsive therapy in emergency departments," J. Emerg. Trauma Shock, vol. 4, pp. 70-76,Jan. 2011.
11. C. Türk, A. Petřík, K. Sarica, C. Seitz, A. Skolarikos, M. Straub and T. Knoll, "EAU Guidelines on interventional treatment for urolithiasis," Eur. Urol., vol. 69, pp. 475-472,Mar. 2016.
12. K. Isen and V. Utku, "Ureteroscopic lithotripsy as a first line treatment for distal ureteral calculi in patients with a solitary kidney," Ege Journal of Medicine, vol. 50, pp. 183-186, 2011.
13. B. Küpeli, H. Biri, K. Isen, M. Onaran, T. Alkibay, U. Karaoğlan and I. Bozkirli, "Treatment of ureteral stones: comparison of extracorporeal shock wave lithotripsy and endourologic alternatives," Eur. Urol., vol 34, pp. 474-479,Dec. 1998.
14. J. M. Teichman, G. J. Vassar, J. T. Bishoff and G. C. Bellman, "Holmium:YAG lithotripsy yields smaller fragments than lithoclast, pulsed dye laser or electrohydraulic lithotripsy," J. Urol., vol. 159, pp. 17-23,Jan. 1998.
15. M. T. Gettman and J. W. Segura, "Management of ureteric stones: issues and controversies," BJU Int., vol. 95, Suppl. 2, pp. 85-93,Mar. 2005.
16. F. X. Jr Keeley, M. Pillai, G. Smith, M. Chrisofos and D. A. Tolley, "Electrokinetic lithotripsy: safety, efficacy and limitations of a new form of ballistic lithotripsy," BJU Int., vol. 84, pp. 261-263,Aug. 1999.
17. C. F. Wu, J. J. Shee, W. Y. Lin, C. L. Lin and C. S. Chen, "Comparison between extracorporeal shock wave lithotripsy and semirigid ureterorenoscope with holmium:YAG laser lithotripsy for treating large proximal ureteral stones," J. Urol., vol. 172, pp. 1899-1902,Nov. 2004.
18. C. S. Chen, C. F. Wu, J. J. Shee and W. Y. Lin, "Holmium:YAG Lasertripsy with semirigid ureterorenoscope for upper-ureteral stones > 2 cm," J. Endourol., vol. 19, pp. 780-784,Sep. 2005.
19. J. D. Denstedt, T.A. Wollin, M. Sofer, L. Nott, M. Weir and R. J. D'A Honey, "A prospective randomized controlled trial comparing nonstented versus stented ureteroscopic lithotripsy," J. Urol., vol. 165, pp. 1419-1422,May 2001.
20. D. Goldfarb and E. Poggio, "Etiology, Pathogenesis, and Management of Renal Failure," in Campbell-Walsh Urology 10th ed, A. J. Wein and L. R. Kavoussi, Ed. Philadelphia: Elsevier Saunders, 2012, pp. 1193-1226.
21. R. Peschel, G. Janetschek and G. Bartsch, "Extracorporeal shock wave lithotripsy versus ureteroscopy for distal ureteral calculi: a prospective randomized study," J. Urol., vol. 162, pp. 1909-1912,Dec. 1999.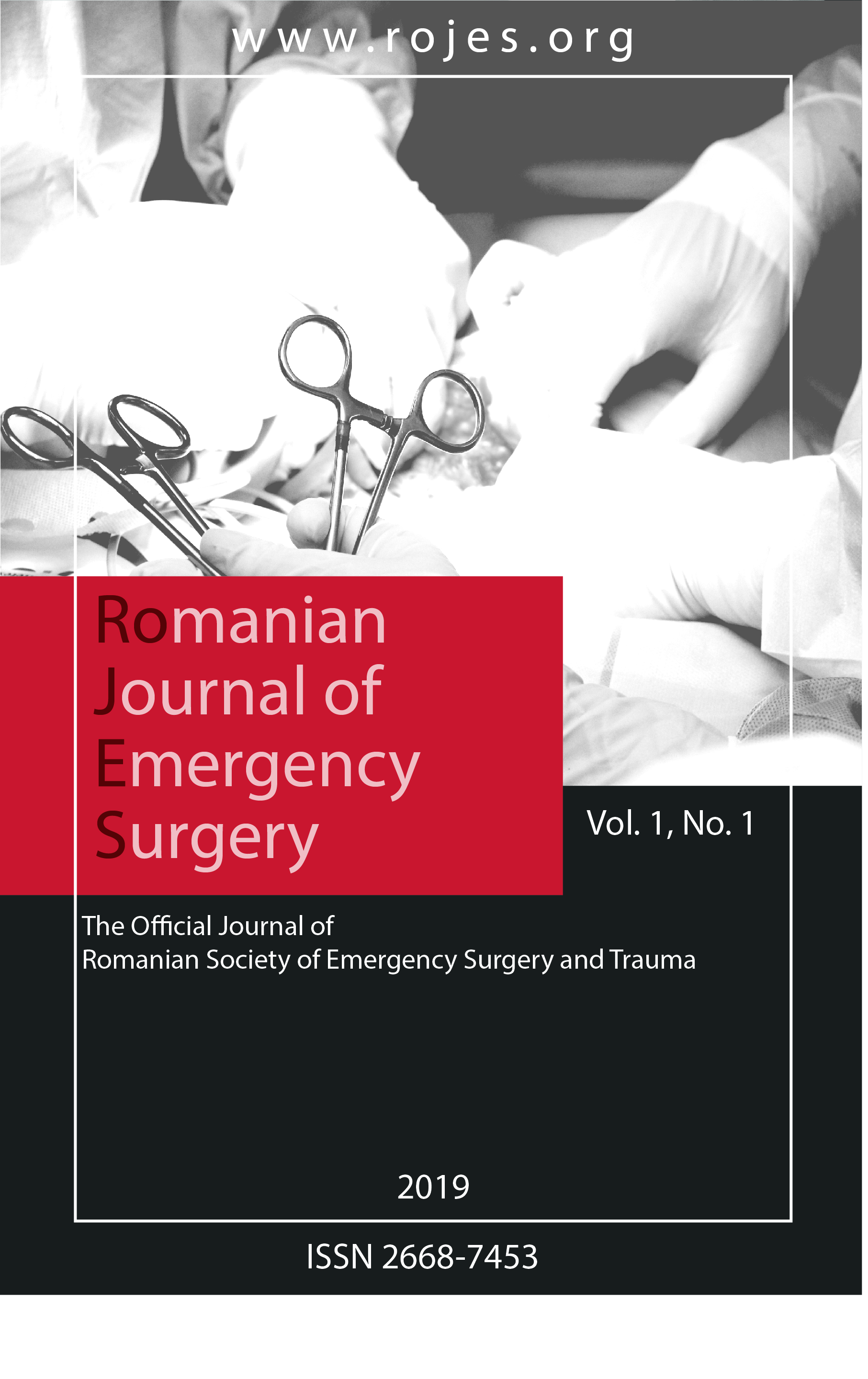 Copyright (c) 2020 Romanian Journal of Emergency Surgery
This work is licensed under a Creative Commons Attribution-NonCommercial-ShareAlike 4.0 International License.